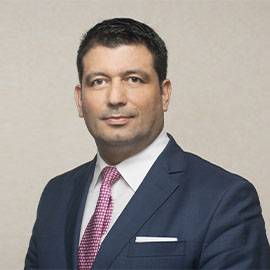 Managing Director - Middle East and Africa
Murat Kucukkaya serves as a Managing Director of Middle East - Africa. Murat has been working on a wide range of consultancy projects in the region and has extensive international experience in health care operations, quality management, health information system (HIS) implementation as well as Physician/Hospital integration and strategic planning for health care.
Prior to joining Joint Commission International, Murat served as Group Chief Operating Officer for Bourn Hall Fertility Center; where he had overall responsibility for operations in UAE and India. During this time, the center received JCIA accreditation and expanded to emirates Abu Dhabi. He also has consulting experience at the Houston Methodist Global Healthcare Services in ME, Africa and Europe, where he advised on greenfield healthcare projects.
In addition, Murat worked as a Hospital Director for Muscat Private Hospital in Oman; where he had overall responsibility for the day-to-day operations and was accountable for the creation of the quality management structure. During this time, the hospital received JCIA accreditation, the first hospital in Oman to do so, and commissioned the Cardiac Services and Outpatient Center.
Murat was responsible for a large scale HIS implementation project while working for the Health Authority Abu Dhabi (DOH), and prior to this was the Director for Health Information Management (HIM) and Quality Management for Round Rock Medical Center in Austin, Texas, USA.
Since 1991, Murat has worked at prestigious and well-respected medical centers in USA, UAE, Turkey, Croatia, and Oman.
He offers management expertise in designing and implementing long-term strategic planning; creating and implementing new product lines; establishing quality and financial key performance indicators.
This site uses cookies and other tracking technologies to assist with navigation, providing feedback, analyzing your use of our products and services, assisting with our promotional and marketing efforts, and provide content from third parties. Get more information about cookies and how you can refuse them by clicking on the learn more button below. By not making a selection you will be agreeing to the use of our cookies.