A female viewing a video on a laptop.
JCI Telehealth Certification
Earn the certification from the leading international accrediting body.
Contact us
Overview
Patients across the globe used telehealth services at staggering rates during the peak of the COVID-19 pandemic and it remains a key modality of care. While telehealth has the potential to improve patients' access to care and help them maintain regular contact with their providers (especially those dealing with chronic health issues), it requires rigor and standardization to ensure safe and quality care. Joint Commission International (JCI) has collaborated with industry experts and leaders to create standards which ensure safe, highly reliable telehealth care.
JCI Telehealth Certification is an additional recognition awarded to JCI-accredited organizations that provide telehealth services following a thorough evaluation of policies, procedures, and the implementation of telehealth technologies to deliver patient care. Organizations seeking JCI Telehealth Certification demonstrate a culture of continuous improvement through standardized practices and processes while ensuring better coordination, communication, and alignment of patient care provided via telehealth.
What to Expect – Certification Process
JCI's Telehealth Certification process is flexible and designed to meet your organization's unique needs. Highlights include:
Trusted resources and expert help with interpreting standards and preparing for the certification process.
Objective assessment from a JCI expert team that evaluates your organization against well-defined standards, survey process guidelines and performance demonstration based on data.
Flexible scheduling that coordinates survey timing with other program-specific survey(s), geographical considerations, survey delivery method (remote, hybrid, on-site) and more. For example, a telehealth certification survey may be scheduled at the same time as the hospital, ambulatory care organization, primary care center, long-term care or home care organization accreditation survey.
Consistent level of knowledge from JCI expert surveyors that focuses on collaboration, a solution-driven mindset, and local considerations such as clinical and operational practices.
Telehealth Certification Final Survey Findings Report with JCI SAFER Matrix results that will provide data-driven insights to identify potential risks and their severity, which can be prioritized to drive continuous improvements.
A decision on Telehealth certification status in accordance with the findings.
Why JCI for Telehealth Certification?
JCI Telehealth Certification focuses on two key areas:
Patient-centered standards that emphasize international patient safety goals, patient rights and responsibilities, medication management and access to telehealth services and care
Organization management standards that emphasize the management of quality data, continuous improvement processes, governance oversight and qualifications, and information systems and equipment management
Key Benefits:
Quality and patient safety are maintained when care is delivered virtually through implementation of evidence-based standards that are unique to telehealth services.
Improvement efforts are strengthened through data-driven performance expectations, standardization, and repeatable processes.
The visibility and credibility of continuity of care coordination is enhanced.
Your organization gains a competitive advantage with an additional formal JCI certification, demonstrating your commitment to excellence to patients and the community.
You foster a culture of quality and patient safety throughout your organization.
Prepare for Telehealth Certification With The Standards Manual and The Companion Survey Process Guide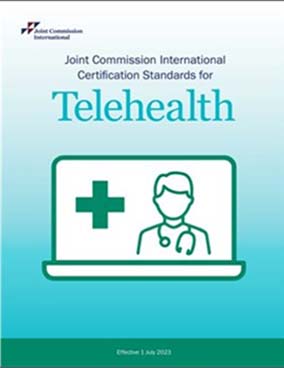 The JCI Certification Standards for Telehealth provides the basis for certification of telehealth organizations throughout the world.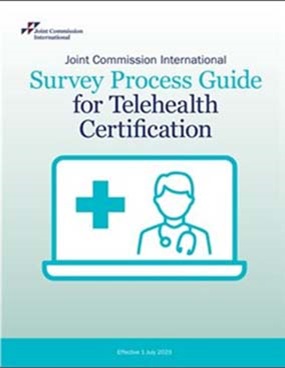 The JCI Survey Process Guide for Telehealth Certification is designed to help organizations learn about and be better prepared for the survey process.
Request More Information
The JCI team is available to help you get started and answer any questions you might have about this program.