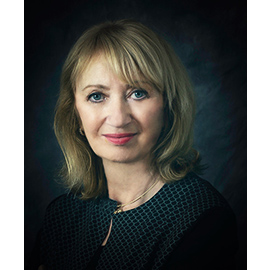 Yvonne P.
Burdick

MHA, EDAC, FACHE
Consultant
Background
---
Over 30 years of experience in health care
Over 15 years as consultant with Joint Commission International
Held leadership positions in hospital and ambulatory care settings
Experienced in operations including ambulatory care, surgery, emergency services, diagnostic imaging, facility planning and construction, budgeting and staffing
Involved in the development and implementation of health service accreditation systems and quality improvement programs internationally
Expertise in facilities management and emergency preparedness
Expertise in design of health care facilities to promote patient safety and quality of care
Ms. Yvonne Burdick began her career in Scotland as a researcher in the field of biochemistry and pharmacology and also as a coordinator of toxicology and clinical trials while based in Switzerland. She subsequently worked with a major chemical manufacturer to oversee environmental safety and occupational health in Brazil. After completing a Master's in Health Care Administration in 1991, she gained extensive experience in the management of hospitals and ambulatory care settings in the USA.
In a consulting role, Yvonne worked from 1992 in collaboration with the World Health Organization in countries throughout Latin America and the Caribbean on projects to develop and implement quality improvement programs and accreditation systems for health services including hospitals, ambulatory care centers and clinical laboratories.
In 1998, she trained as a consultant and surveyor with Joint Commission International. She was a member of the team assigned to survey hospitals in Spain in collaboration with the Donabedian Institute, Barcelona. She has since consulted extensively in hospitals, university medical centers, and ambulatory care facilities in locations throughout the world. She has developed significant expertise in the fields of health care administration, facility management, and facility design. Yvonne lives in North Carolina, USA.
Professional Experience
---
Administrator of a medical center comprising 24-hour emergency care, laboratory, radiology, CT, MRI, family practice and medical specialists center
Assistant administrator of a 300-bed community hospital
Executive Director of a large regional medical and diagnostic center including outpatient surgery and cardiac catheterization
Management experience in the areas of clinical research, toxicology, occupational health, safety and environmental affairs
Professional Affiliations or Certifications
---
Evidence-Based Design Accreditation and Certification by the Center for Health Design (EDAC)
Fellow of the American College of Health Care Executives (FACHE)
Phi Kappa Phi
Education
---
Master of Health Administration, Medical College of Virginia, Richmond, VA, USA
Bachelor of Science in Biological Sciences with Honors in Physiology, University of Edinburgh, Edinburgh, Scotland
This site uses cookies and other tracking technologies to assist with navigation, providing feedback, analyzing your use of our products and services, assisting with our promotional and marketing efforts, and provide content from third parties. Get more information about cookies and how you can refuse them by clicking on the learn more button below. By not making a selection you will be agreeing to the use of our cookies.