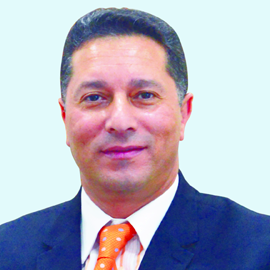 Mohaymen
Abdelghany

MD, MSc, MSHM, CPHQ
Consultant
Background
---
A highly accomplished, Harvard educated Senior Physician Executive with 25+ years of global experience that reflects achievements across public and for-profit health systems.
Dr. Mohaymen Abdelghany is an anesthesiologist by background; graduated from Harvard and INSEAD executive leadership programs and holds two masters in anesthesia and healthcare management after finishing his medical degree. He brings vast leadership experience to Joint Commission International, lending well to the consultative environment. Dr. Abdelghany is also Six Sigma trained and may help organizations with process improvement activities. As a Senior Physician and Healthcare Executive, his global experience reflects achievements across public and for-profit health systems. He serves on several healthcare and advisory boards and actively participates as a speaker/panelist in major international and regional healthcare conferences, symposia, and meetings.
Dr. Abdelghany has diverse expertise within clinical, managerial, consulting, healthcare quality, technology and business. An outstanding healthcare leader of cross-functional expert teams throughout healthcare ecosystems in Egypt, KSA, UAE, India and USA with proven success in designing, establishing, and running existing and new health systems. He successfully led different business transitions in health care through startups, turnarounds, realignments, and sustaining success.
Dr. Abdelghany was selected by Dubai Health Authority and Health Magazine as the UAE's Distinguished Chief Executive in Healthcare for 2018.
Visit healthmagazine.ae to learn more
Professional Experience
---
Chief Executive Officer, Danat Al Emarat Hospital, Abu Dhabi, UAE
Chief Executive Officer, Al Zahra Hospital, Dubai, UAE
Vice President of Healthcare and Executive Director of Healthcare Advisory Board, KEF Holdings, Dubai, UAE
Chief Executive Officer, Saudi German Hospital, Dubai, UAE
Chief Executive Officer, Al Saudi German Hospital, Abha, KSA
Group Quality & Patient Safety Director, Saudi German Hospital, Dubai, UAE
Medical Director, Chief of Medical Operation, Saudi German Hospital Riyadh, KSA
Chief Executive Officer, Al Sharq Healthcare Group LLC, Fujairah, UAE
Professional Affiliations or Certifications
---
Alexandria Society of Anesthesiology and Intensive Care
American College of Healthcare Executive, MENA Chapter
American University in Cairo Alumni Association
Certified Professional in Healthcare Quality (CPHQ)
Dubai Medical Tourism Club, Founding Member
Dubai Private Hospital Association, Board Member
Egyptian Medical Syndicate
Emirates Hospital Association, Board Member
Fellowship of the American Institute of Healthcare Quality
Green Belt Six Sigma Certification
INSEAD Blue Ocean Strategy Alumni, United Arab Emirates and France
INSEAD Middle East Health Leaders Forum, United Arab Emirates and France
National Association of Healthcare Quality
Riyadh Healthcare Quality Club, Kingdom of Saudi Arabia, Founding Member
US Healthcare Quality Certification Board
Education
---
Senior Executives Leadership Program, Harvard Business School Executive Education, Boston, MA, USA
Managing Healthcare Delivery, Harvard Business School Executive Education, Boston, MA, USA
Master's in Healthcare Management, Institute of Leadership & Healthcare Management, Royal College of Surgeons, Ireland, Medical University of Bahrain
Total Quality Management in Healthcare Administration, American University in Cairo, Egypt
Master's Degree in Anesthesia and Critical Care, Alexandria University, Egypt
Bachelor of Medicine, Alexandria University, Egypt
This site uses cookies and other tracking technologies to assist with navigation, providing feedback, analyzing your use of our products and services, assisting with our promotional and marketing efforts, and provide content from third parties. Get more information about cookies and how you can refuse them by clicking on the learn more button below. By not making a selection you will be agreeing to the use of our cookies.