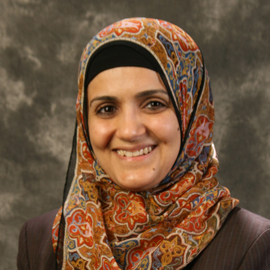 May A.
Al-Khunaizi

MD, MBBS, FABP
Consultant
Background
---
Over ten years of leadership and management experience in health care
Expertise in hospital, ambulatory care and performance improvement consulting
Certified Malcolm Baldrige Quality Award Examiner
Dr. May Al-Khunaizi has more than ten years of leadership and management experience in operations with increasing senior leadership responsibilities. She has extensive senior management experience in all aspects of hospital improvement processes including setting strategic direction, monitoring organizational performance against goals, enhancing the internal organizational process and infrastructure, operational excellence initiatives and extensive experience with international accreditation standards and processes, risk management and performance management for health care organizations.
Dr. Al-Khunaizi served in various senior management positions in health care systems. These positions included Chief Operating Officer, Director of Training and Development and Deputy Chief Medical Officer, and finally as the executive director of a large tertiary care hospital in the Eastern Province of Saudi Arabia.
Under her leadership as Executive Director, the hospital was re-accredited by Joint Commission International (JCI) Accreditation, Accreditation Canada, and the Australian Council. Her vast managerial experience enables her to obtain a broad perspective and understanding of the current needs of health care organizations with accreditation systems and quality improvement technical assistance and training. As a JCI consultant, she has conducted consultations and educational programs in the Middle East and Asia.
Professional Experience
---
Executive Director, SAAD Specialist Hospital
Dean of SAAD college of nursing and allied health
Certified Malcolm Baldrige National Quality Examiner
Chief Operating Officer, SAAD Specialist Hospital
Director of training and development, SAAD Specialist Hospital
Regional Director - Neonatal resuscitation program
U.S. board certified neonatologist and pediatrician
Professional Affiliations or Certifications
---
Fellow of the American Board of Pediatrics (FABP)
Saudi Neonatal Association
Education
---
Neonatal-Perinatal Medicine Fellowship, Harvard Medical School, Boston, MA, USA
Clinical Molecular Genetics Training, Harvard Medical School, Boston, MA, USA
Certificate in Health Care Administration, Jones International University, Centennial, CO, USA
Pediatric resident, Department of Pediatrics, New England Medical Center, Boston, MA, USA
Pediatric intern, Department of Pediatrics, New England Medical Center, Boston, MA, USA
Bachelor of Medicine, Bachelor of Surgery (MBBS) with Honors, King Faisal University College of Medicine and Medical Sciences, Dammam, KSA
This site uses cookies and other tracking technologies to assist with navigation, providing feedback, analyzing your use of our products and services, assisting with our promotional and marketing efforts, and provide content from third parties. Get more information about cookies and how you can refuse them by clicking on the learn more button below. By not making a selection you will be agreeing to the use of our cookies.