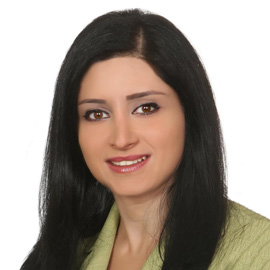 Marale O.
Atechian

PharmD, Ms, CPHQ
Principal Consultant
Background
---
Over 18 years of successful experience in the field of healthcare
Expertise in quality improvement, patient safety, medication safety, risk management, facilities and environment of care, health care management, patient centric systems design, safe health design.
Led and contributed in the achievement of National and Joint Commission International accreditations for multiple healthcare organizations.
Speaks multiple languages: English, French, Armenian, and Arabic
Dr. Marale Atechian's consulting expertise includes development of quality/performance improvement systems; implementation of safe medication management processes, safe infection control practices, evaluation of clinical processes; use of data to measure performance; risk assessment and proactive risk reduction, board engagement for quality, and standards and survey process preparation including quality and safety of medical transport services.
Dr. Atechian has held several senior leadership healthcare positions in quality and patient safety in Lebanon and the Middle East and actively involved in the development of strategic plans, quality improvement plans, and hospital-wide policies. She led various hospitals through commissioning, quality certification, hospital accreditation/ re-accreditation, and regulatory audit programs. She continues to serve on numerous quality and safety societies in the Lebanon and Middle East. She is specialized in commissioning of new healthcare organizations till transition to smooth and safe operation.
Dr. Atechian has a full knowledge of Joint Commission International accreditation standards (Hospital, Medical transport services, ambulatory care), various national accreditation standards (Saudi Central Board for Accreditation of Healthcare Institutions and Lebanese MOH Standards), Occupational Health and Safety Management System, (OHSAS 18001), Food Safety Management System (ISO 22000:2005) and Quality Management system (ISO 9001).
Dr. Atechian speaks at national and international conferences and she is the author of several papers and white papers. She is a lecturer in several Universities in Lebanon and Kingdom of Saudi Arabia and She is an advisory member for the World Health Organizations (AGISAR).
In 2013, Dr. Atechian joined Joint Commission International as a consultant where she has visited hospitals, academic medical centers, tertiary care hospitals, and medical transport organizations around the globe (Europe, Asia, Middle East, Africa) to educate through educational sessions, initial gap analysis, and mock surveys to contribute in the achievement and sustainability of their Joint Commission International Accreditation.
Professional Experience
---
Manages accreditation, regulatory compliance, and related quality programs for Clemenceau Medical Center (Affiliated with Johns Hopkins Medicine International) — Lebanon and Kingdom of Saudi Arabia.
Operation and Commissioning advisor for new healthcare facilities in Jeddah (tertiary healthcare and primary healthcare)
Lecturer at Saint Joseph University in Lebanon on the topics on quality, national and international accreditation
Lecturer at Lebanese University on the topics of occupational health and safety
Assistant Quality Assurance Director at KGH, Lebanon
Advisory Service Provider for World Health Organization (country office) on the topic of Antimicrobial Use and Resistance in Health Care
Professional Affiliations or Certifications
---
Certified Professional in Healthcare Quality (CPHQ)
Lebanese Order of Pharmacists
Lebanese Society for Quality and Safety in Healthcare, Founding Member
World Health Organization (WHO) Advisory Group Integrated Surveillance of Antimicrobial Resistance (AGISAR)
Education
---
Doctor of Pharmacy, Saint Joseph University, Beirut, Lebanon
Master in Healthcare Technology; Specialized in Health Care Quality Management Systems
Bachelor degree in Sciences
This site uses cookies and other tracking technologies to assist with navigation, providing feedback, analyzing your use of our products and services, assisting with our promotional and marketing efforts, and provide content from third parties. Get more information about cookies and how you can refuse them by clicking on the learn more button below. By not making a selection you will be agreeing to the use of our cookies.