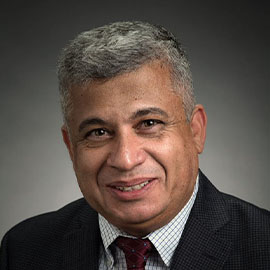 Fayez
Abuharb

MBA, RN, CPHQ
Field Director - International Consulting
Background
---
Mr. Abuharb has more than 25 years of experience in health care, as a clinician and administrator, in the US and the Middle East. He has managed all phases of accreditation projects for hospitals and ambulatory care centers leading to both Joint Commission and Joint Commission International Accreditation from start to finish with stellar results. With his extensive background in quality program management and strong communication skills, he is able to work successfully with all levels of providers in health care organizations in pursuit of excellence in health care services.
Having wide-ranging familiarity with preparing regular reports, coordinating accreditation activities, data management and overseeing performance improvement initiatives, Mr. Abuharb is able to seamlessly integrate and promote essential elements required for sustained quality improvement and accreditation compliance.
In 2015 Mr. Abuharb assumed his current role as Field Director for International Consulting, where he oversees the consulting activities of over 50 health care professionals in a variety of disciplines. He is currently pursuing his PhD in nursing. He currently resides in Houston, Texas.
Professional Experience
Mr. Abuharb brings a wealth of knowledge and experience gained in numerous health care facilities in the USA, Saudi Arabia and United Arab Emirates in both public and private health care facilities. His areas of expertise include quality management, quality indicators development, accreditation preparation and review, staff education, policy development, and cultural sensitivity training.
Professional Affiliations or Certifications
---
Certified Professional in Healthcare Quality (CPHQ)
RPI® Certified Yellow Belt, The Joint Commission
Education
---
Master of Business Administration, Bellevue University, Bellevue, NE, USA
Bachelor of Science in Nursing, University of Texas, Houston, TX, USA
This site uses cookies and other tracking technologies to assist with navigation, providing feedback, analyzing your use of our products and services, assisting with our promotional and marketing efforts, and provide content from third parties. Get more information about cookies and how you can refuse them by clicking on the learn more button below. By not making a selection you will be agreeing to the use of our cookies.