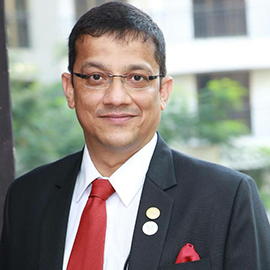 Clive
Fernandes

MD, MHA, MBBS
Consultant
Background
---
As the Group Clinical Director of Wockhardt Group of Hospitals and Chief Operating Officer Maharashtra region, Dr. Clive Fernandes ensures that Operational efficiencies, Cost control, Clinical Excellence, Nursing, Quality, and Accreditation standards are met across all Wockhardt Hospitals. He works closely with the Group's Hospital heads as well as key members from the medical fraternity to promote quality healthcare solutions and sort out operational issues at the units. He has implemented many quality and operational initiatives that have led to optimum utilization of current resources and improved delivery of healthcare services across the group hospitals. With a career that spans over 19 years, Dr. Fernandes is a veteran when it comes to hospital administration. His key areas of interest are Quality, Medication Management, Hospital Operations, Service Excellence and Administration.
Dr. Fernandes has been a consultant with Joint Commission International (JCI) for over 14 years and has provided consultation services in healthcare organizations based in Asia, Africa, Europe, and Middle East. He has also been invited as a faculty member at JCI's International Practicum's conducted at Abu Dhabi, Seoul, Indonesia, Tokyo, Singapore, Dubai, and Miami, US. He also serves as faculty for the Healthcare Quality Management & Patient Safety Program certification program by JCI. Dr. Fernandes' previous appointment was with Apollo Group Hospitals in India. In Apollo, he played a pivotal role in designing and implementing systems that promoted Medication Safety and Quality Improvement initiatives in every hospital. He was also tasked with creating and implementing performance improvement initiatives that increased operational efficiency across the Group hospitals.
Dr. Fernandes' passion for healthcare, innovation, and policymaking have honed his skills and have made him a much more efficient leader. He is constantly looking for ways to improve quality, safety, and efficiency in the existing healthcare systems. He is regularly invited to national and international conferences to talk about Quality, Accreditation and patient safety. Dr. Fernandes regularly contributes articles to a number of healthcare journals.
Professional Experience
---
Group Clinical Director, Wockhardt Group of Hospitals, India
Chief Operating Officer- Maharshtra, Wockhardt Group of Hospitals, India
Consultant Clinical Pharmacologist, Apollo Group Hospitals, Chennai, India
G.M. Quality and Special Projects, Apollo Group Hospitals, Chennai, India
Professional Affiliations or Certifications
---
Expert at ISQua
Certified Green Belt, Lean Six Sigma methodology
Certification in Project Management and Strategies for growth, IIM Ahmedabad
Indian Medical Council
National Accreditation Board for Hospitals and Healthcare Organizations (India), Assessor
RPI® Certified Yellow Belt, The Joint Commission
Education
---
Doctor of Medicine (MD Pharmacology), JLN Medical College, Ajmer, Rajasthan, India
Master of Hospital Administration, Indian Institute of Management and Technology, Chennai, India
Bachelor of Medicine and Bachelor of Surgery (MBBS), Dr S.N. Medical College, Jodhpur, Rajasthan, India