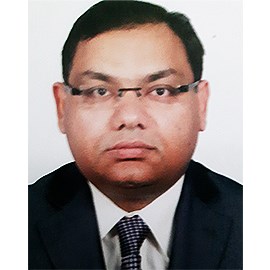 Shakil
Ahmad

MD, MBBS, MHCM, CPHQ, CPSO
Consultant
Background
---
Dr. Shakil Ahmad has over 25 years of experience in clinical, administrative and leadership positions in healthcare management and quality & patient safety. He is an Internal Medicine Specialist by training and clinical practice. He has dedicated the last 17 years in leadership positions in Medical Administration and Quality improvement & Patient safety in Middle East and North Americas. Additionally, he has been a Joint Commission International Consultant (Physician and Administrator) for the last ten years specializing in guiding community hospitals, academic hospitals and ambulatory centers get accredited in Europe, China, other Asia-Pacific Countries, India, Middle East etc. Dr. Ahmad has also guided hospitals in preparing for disease or service specific certification (for e.g. End Stage Renal Failure, Palliative). He is also an European Foundation Quality Management Assessor, ISO Auditor, and Lean Six Sigma Specialist.
Professional Experience
---
Dr. Ahmad has held the position of Corporate Asst. Medical Director of a Government health care system managing all hospitals, home healthcare and ambulance system of the country, all of which have been Joint Commission Accredited successfully thrice. He has held other key positions such as Quality Improvement Physician, Head of Medical Staff Performance and Clinical Audit, Quality Manager as well. Additionally, he has practiced as Internal Medicine Specialist, Emergency Physician, Intensive Care and Cardiac Care Physician.
Professional Affiliations or Certifications
---
Alumnus of Imperial College of Medicine and Technology & Oxford Brookes University, UK
Canadian Patient Safety Officer (CPSO), Canada
Certified Professional in Healthcare Quality (CPHQ), USA
Certified Professional in Quality Management (CPQM), Dubai
Coaching the Coach training, Dartmouth Institute for Health Policy and Clinical Practice, USA
National Association for Healthcare Quality, USA
Risk Management in Healthcare, Canada
Education
---
Master of Science Management in Health and Social Care, University of Oxford Brookes, Oxford, UK
Diploma of Internal Medicine, Royal Postgraduate Medical School, London, UK
Bachelor of Medicine and Surgery, Anugrah Narayan Magadh Medical College, Gaya, India