A young surgeon discusses with doctor over medical reports.
Showcase Your Clinical Program
Certifying your clinical program or specialty center with The Gold Seal of Approval® from JCI validates excellence in the care you deliver to defined patient populations and demonstrates that your program is committed to upholding additional compliance and safety standards.
Overview
JCI's certification programs are designed to evaluate quality of care and patient safety of clinical care programs for health care organizations. JCI-accredited health care organizations may seek certification for care and services provided for any chronic disease or condition.
Like accreditation, certification requires an evaluation by JCI. It covers compliance with the standards and verifies improvement activities. After earning certification, you will receive The Gold Seal of Approval®, internationally recognized mark of quality.
Why JCI for Clinical Care Program Certification
Certification shows an organization's commitment to continuous performance improvement, providing high quality patient care and reducing patients' risk of harm.
Improves the quality of patient care by reducing variations in clinical processes.
Provides a framework for your program structure and management to organize and strengthen your improvement efforts.
Strengthens community confidence in the quality and safety of care, treatment, and services.
Enhances staff knowledge, skills, and competencies.
Gives you a competitive advantage.
Types of Programs Certified
JCI CCPC evaluates the programs that provide clinical care directly to participants of the program and meet the eligibility requirements.
Examples of programs may include, but are not limited to, acute myocardial infarction, heart failure, primary stroke, asthma, chronic obstructive pulmonary disease, pain management, palliative care, low back pain, chronic depression, and HIV/AIDS.
Areas evaluated for compliance include:
International Patient Safety Goals
Program leadership and management
Delivering or facilitating clinical care
Supporting self-management for patients and caregivers
Clinical information management
Performance, measurement, and improvement
What to Expect – Clinical Care Program Certification (CCPC) Process
JCI's CCPC process is flexible and designed to meet your organization's unique needs. Highlights include:
Trusted resources and expert help with interpreting standards and preparing for the certification process.
Objective assessment from a JCI expert team that evaluates your organization against well-defined standards, survey process guidelines and performance demonstration based on data.
Flexible scheduling that coordinates survey timing with other program-specific survey(s), geographical considerations, survey delivery method (remote, hybrid, on-site) and more.
JCI surveyors with clinical expertise who focus on collaboration, a solution-driven mindset, and local considerations such as clinical and operational practices.
CCPC Final Survey Findings Report with JCI SAFER Matrix results that will provide data-driven insights to identify potential risks and their severity, which can be prioritized to drive continuous improvements.
A decision on certification status in accordance with the findings.
Determine your Eligibility
Organizations seeking certification must meet all the general eligibility requirements for Joint Commission International certification. These requirements include:
The organization is a JCI-accredited health care organization.
A minimum of 25 patients have met the program's eligibility requirements and have been managed under the program's selected clinical practice guidelines at the time the hospital submits its CCPC application.
The program can demonstrate at least a six-month track record of consistent compliance with all the JCI standards prior to CCPC application.
The program meets all criteria for the JCI Clinical Practice Guideline Selection Process.
Prepare for Clinical Care Program Certification with The Standards Manual and The Companion Survey Process Guide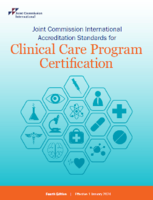 The JCI Clinical Care Certification Standards provides the basis for certification of organizations throughout the world, supplying organizations with the information they need to pursue or maintain patient safety, performance improvement, and certified status starting 1 January 2024.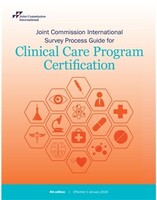 Prepare your entire organization for a Joint Commission International clinical care program certification survey using this electronic resource!
Request more Information
The JCI team is available to help you get started and answer any questions you might have about this program.