Confident young man in smart casual working and concentrated on a laptop computer sitting on a desk in modern office.
February 2023
Introducing High Reliability Services
High reliability means consistent excellence in quality and safety across all services maintained over long periods of time. This high level of performance, which includes the elimination of major quality failures, does not exist in health care today.
JCI is expanding our portfolio with an experienced team of high reliability experts* to offer a variety of services including:
High reliability maturity assessments
Safety culture programs
Training programs for Facilitating Change® and process improvement
Chart your path to high reliability. We can help you whether you are just beginning the journey to high reliability or seeking to advance with a more mature program.
*The use of Joint Commission International (JCI) advisory services is not necessary to obtain a Joint Commission International Accreditation award, nor does it influence the granting of such awards.
---
Reserve Your Spot at One of Our Upcoming Workshops
Accreditation Essentials & Beyond
JCI invites you to attend our in-person event Accreditation Essentials & Beyond at Charles University in Prague. This is a new program for healthcare professionals seeking knowledge on the JCI standards and will include implementing a framework for building an organization-wide culture of safety.
After completing this course, participants will gain knowledge in the JCI standards, suggested methods for implementing complex processes to improve patient safety, and details on how build your teams for success. This course has an optional additional two days with two different tracks for focused learning; Track I is for deeper details on establishing your programs in quality, infection control, document development, and staff development. Track II is for your facility management team. Registrants can only register for one of the optional tracks.
Dates: 17-21 April 2023
Virtual Root Cause Analysis Workshop: Managing Adverse Events
Taught by trained experts in quality, safety, and accreditation from JCI, this workshop offers interactive presentations using case studies and team-based activities to share information and develop the competencies needed for conducting a root cause analysis (RCA).
By the end of the workshop, you'll be able to:
Apply root cause analysis tools
Define the organizational requirements for conducting an effective root cause analysis
Describe the JCI accreditation standards that are specific to patient safety events
Follow the steps to manage a patient safety event
Dates: 17-18 May 2023
Learn more and register Learn more and register

---
Two New Books! Perfect for Those New to Performance Improvement and Measurement
Practical Measurement for Health Care Improvement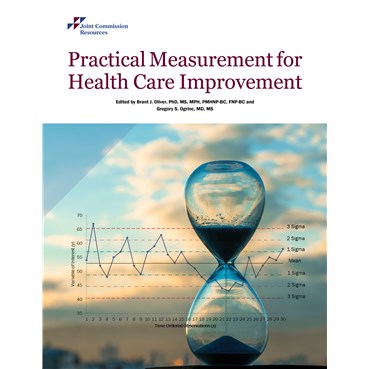 Written by experienced practitioners and teachers of health care improvement, Practical Measurement for Health Care Improvement guides the busy health care professional through analyzing data in real time for those who need and use data. It is developed to help steer individuals through the processes of making and communicating improvements in the health care settings in which they work. This book is intended for novice and intermediate-level improvers in all health professions--especially students--and uses a sound educational approach to quantitative analyses that does not require rigorous academic study in statistics.
Learn more and order your copy today! Learn more and order your copy today!

Fundamentals of Health Care Improvement: A Guide to Improving Your Patients' Care, 4th edition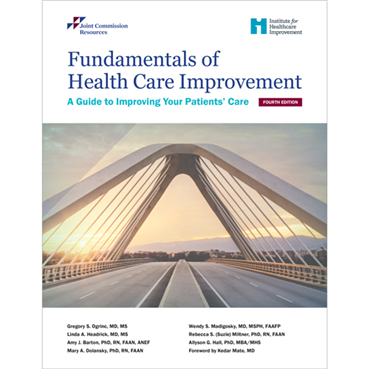 This book is intended to help health professional learners diagnose, measure, analyze, change, and lead improvements in health care, with the aim to shape reliable, high-quality systems of care in partnership with patients. New to this edition is a focus on health equity and disparities of care brought to light by the COVID-19 pandemic. This focus explores the relationship between social determinants of health and how improvement methods and skills can help identify and close disparity gaps in systems of care. Also new to this edition is an expanded discussion of effective teamwork and the importance of creating multidisciplinary health care teams that partner with patients and families.
Learn more and order your copy today! Learn more and order your copy today!

---
Upcoming Webinar: Achieving JCI Telehealth Certification
Telehealth utilization across the globe surged at staggering rates during the pandemic and remains a key modality of care. As care shifts from traditional settings such as hospitals and clinics, we need to also ensure that quality of care and patient safety is maintained in the telehealth environment. The JCI Telehealth Certification program focuses on patient centered standards as well as organization's management of this modality of care to address these unique challenges.
Reserve your spot today! Reserve your spot today!

---
Call for Submissions: JCI's Leading Practice Library
JCI's Leading Practice Library serves as a collection of real life, fully implemented practices submitted by JCI accredited or certified healthcare organizations and reviewed by our experts. The Library was created to spur ideas and provide practices to help other organizations address a variety of healthcare areas. This free resource is available to all accredited organizations and is available on JCI Direct Connect.
Submit your organization's leading practice through JCI Direct Connect today Submit your organization's leading practice through JCI Direct Connect today

Archive
This site uses cookies and other tracking technologies to assist with navigation, providing feedback, analyzing your use of our products and services, assisting with our promotional and marketing efforts, and provide content from third parties. Get more information about cookies and how you can refuse them by clicking on the learn more button below. By not making a selection you will be agreeing to the use of our cookies.