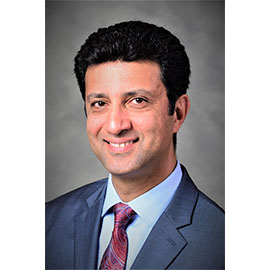 Babak "Bobby"
Pazooki

MD, MS, FACE, CPE
Consultant
Background
---
Physician executive with over 20 years of administrative, academic and clinical background, serving in senior leadership ranks in the United States and internationally.
In-depth knowledge and hands-on experience in program development and strategic growth, medical staff management, quality and safety management, process improvement, compliance and regulatory matters.
Dr. Babak (Bobby) Pazooki is a physician executive and board-certified endocrinologist with a broad range of expertise in all aspects of healthcare in the United States and more than 30 other countries. He has assisted more than 50 healthcare organizations in the US and around the world in their strides to improve quality, safety, efficiency and organizational development.
Prior to joining the Joint Commission International (JCI), Dr. Pazooki served as the Vice President and Chief Medical Officer at hospitals near Chicago. In that capacity, he successfully managed and directed several service lines, including Medical Staff Department, Quality Department, Utilization Management and the Hospitalist Program.
As the executive overseeing quality and safety, he led the team of experts to successfully acquire the Joint Commission accreditation and establish centers of excellence. He also successfully developed multiple service lines such as hospitalist program, diabetes centers of excellence and wright management centers in multiple communities. Dr. Pazooki was the lead author of the "Clinical Recommendations in Diabetes Management," published by the Department of Health at the State of Wyoming.
Since joining the JCI in 2012, Dr. Pazooki served as a physician surveyor for 6 years, prior to transitioning to the consultant role. He has provided accreditation services, workshops, seminars and educational and training courses for numerous healthcare organizations throughout the world.
Professional Experience
---
Vice President and Chief Medical Officer, Amita St. Mary's Hospital, Kankakee, IL, USA
Director, Hospitalist Program, Amita St. Mary's Hospital, Kankakee, IL, USA
Adjunct Faculty, University of Wyoming, Casper, WY, USA
Chairman, Department of Medicine, Wyoming Medical Center, Casper, WY, USA
Director, Diabetes Care Center, Wyoming Medical Center, Casper, WY, USA
Director, Weight Management Program, Wyoming Medical Center, Casper, WY, USA
Professional Affiliations or Certifications
---
Fellow of the American College of Endocrinology (FACE)
Certified Physician Executive (CPE), American Association for Physician Leadership
Certified by the American Board of Internal Medicine, Endocrinology
Licentiate of the Medical Council of Canada (LMCC)
Education
---
Fellowship in Endocrinology, University of Cincinnati College of Medicine, Cincinnati, OH, USA
Residency in Internal Medicine, BronxCare Health System, Albert Einstein College of Medicine, Bronx, NY, USA
MSc in Physiology and Molecular Biology, McGill University, Montreal, QC, Canada
PhD Candidate in Physiology and Molecular Biology, McGill University, Montreal, QC, Canada
MBA candidate, University of Illinois Urbana Champaign, Champaign, IL, USA (commencement 2020)
Doctor of Medicine, Iran University of Medical Sciences, Tehran, Iran
This site uses cookies and other tracking technologies to assist with navigation, providing feedback, analyzing your use of our products and services, assisting with our promotional and marketing efforts, and provide content from third parties. Get more information about cookies and how you can refuse them by clicking on the learn more button below. By not making a selection you will be agreeing to the use of our cookies.